---
Camel Course Safari:
1st day:
We start our journey in the morning by leaving Dahab by Minibus – driving to Wadi Ghazala. Here we get ourselves & our equipment for the first time on the back of our Camels. Our first ride will lead us to the White Canyon. We climb through the Canyon for about 1½ hours. Directly behind the White Canyon the Oasis of Ain Khudra is awaiting us. Here, we have time to relax, drink tea, chat with the Bedouins and we will take our lunch with a Bedouin family.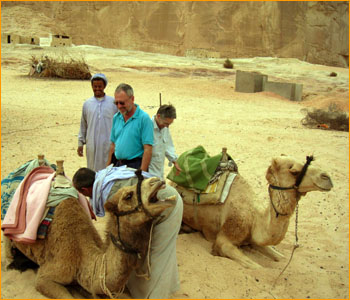 After this rest, our Bedouin teacher will give us our first lesson about our Camels: How to order the Camel to sit down, to be able to get onto it. And how to saddle and pack the Camel. How to put the headgear and how to order the Camel trot or gallop. Further our teacher will give us an idea about the Camel's food and its "social life".

After this first lesson we have the possibility to try out what we just learned ourselves: We will ride on our Camels to the Close Canyon. It takes us 1 hour walking through the Canyon, before we prepare our night camp near to the Closed Canyon. Here the Bedouins will make a fire to prepare the Bedouin tea and a fresh dinner. Enjoy your first night under millions of stars

2nd day:
After taking our breakfast with fresh made Bedouin bread, we will enjoy our second lesson:

Today our Bedouin teacher will show us all about feeding the Camels. We will know how we can prepare the food and of what it consists. And when do we have to feed and water the Camels - and how. Further, how we can tie the legs of the Camel to leave it resting & eating free in the desert.

After this lesson we get ready for our 2-hours-Camel ride to Wadi Disco. Here, we enjoy our well deserved break. Lunch will be prepared by the Bedouins on the open fire. Feeling relaxed, our Bedouin teacher will give us the third lesson:

He is going to give us some knowledge about the Camel's life: What do they like & dislike, their habits, how do they sleep and mate (mating season)

In case you choose the 2-days-trip, our safari will end here. We will get back to the road, where our minibus is awaiting us in the late afternoon to return back to Dahab.

Otherwise, we will enjoy a 1½-hour Camel ride leading us to Jebal Blehis. Here we prepare ourselves again to spend our second night under the stars. The Bedouins will prepare our camp, light a fire and cook fresh dinner for us, before we enjoy the silence and the atmosphere of the desert and the mountains.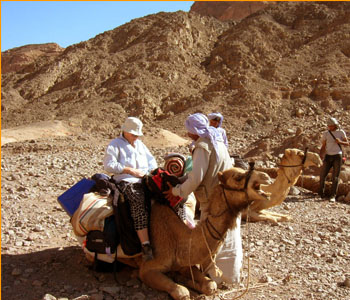 3rd day:
After enjoying our fresh prepared breakfast we get ready for our 4th and last lesson:

Today we will learn how to ride a Camel on our own!!! This means, we have to know how we can order the Camel to trot and gallop, and how to lead it in the right direction. How can we make the Camel listen to us? And how do we sit on it in a comfortable way – for us and for the Camel as well.

Aim of this Safari is that we can handle the Camel at the end of the trip on our own. We will know all about leading and feeding, packing and riding the Camel.

To give ourselves a chance to approve all we learned during these days with the Bedouins in the desert, we are finally going on a free Camel ride for two hours. At the end of this ride the Bedouins will prepare the last lunch for us in the nature. Feeling relaxed, we make our way back to the road where the minibus is awaiting us in the late afternoon to return back to Dahab.

* Minimum 2 pax needed to organize this trip.
Costs: 40 € per pax / per day
---
Family Safari:
This Safari is created for families from abroad by and with Bedouin Families from South Sinai, Mzeina Tribe. Aim is, that all family members get to know each other and collect some experience about each others life and culture … as far as this is possible in a few days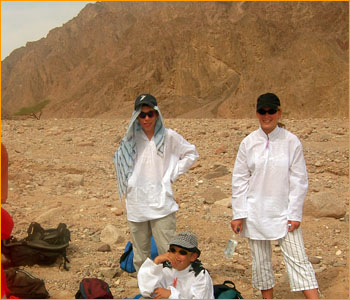 Duration of the safari can be optional between 2 and 7 days

The family safari can be arranged as a Camel Safari or a Jeep Safari – or as a combination of both: Camel & Jeep.

Further we offer the safari to different destinations: We can go through the mountains & canyons, passing by green oasis and soft sand dunes – or optional we could go down to the sea and combine our desert trip with some snorkeling. Anyway, our amazing journey will lead us through the home land of the South Sinai Bedouins.

It will be an unforgettable experience for you and your family, discovering the beauty of Sinai's desert together with a family leading you through their homeland. Like this you will get a very good insight into the Bedouin's life, traditions, habits and culture at the same time.

On this trip the Bedouin women will provide you with typical Bedouin food and drinks. They will show you how they prepare the food, and what out of Sinai's nature they can use for it. They will bake the famous Bedouin bread (Fiteer or Farasheer) – and if you like – you could join them. Further, they will introduce you into Sinai's herbs and plants – and how to use them.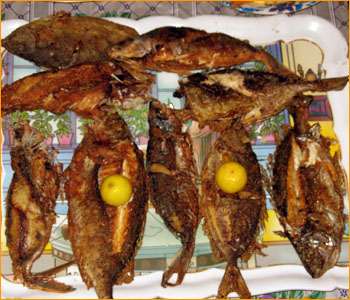 Especially the children will enjoy the safari by playing with the Bedouin kids in the mountains, fresh waters of the oasis and the sand dunes. They will be shown how to ride the Camel and much more …

The Bedouin men are responsible on the safari for the transportation by Jeep or by Camel. Once arrived at a rest place, they will prepare the camp area, collect wood and light our camp fire, which is always the most important thing to be able to offer fresh tea, cook our meals and bake bread.

You and your family will enjoy sleeping in the calmness of the nature under millions of stars.

We are sure, after this trip you found life-time friends, which you won't ever forget again …

* Minimum 4 pax are needed to organize this trip.
Costs: 55 € per pax / per day
---
Yoga Safari:
It is possible to arrange our Yoga safari to different destinations upon request: We can go through the mountains & canyons, passing by green oasis and soft sand dunes – or we can head down to the sea and combine our desert trip with some snorkeling. Important is, that our journey will lead us to remote places – away from mass tourism – so we can concentrate on the quietness of Sinai's nature and our Yoga sessions.

The safari can be arranged as a Camel – or as a Jeep Safari. And will always be joined by Bedouin guides from South Sinai and a professional Yoga teacher.

Aim is to enjoy the breathtaking landscape of the Sinai desert; to explore the amazing natural canyons, the panorama view from and on the mountains and the soft sand dunes. We will have time to relax and be one with the nature.

Our Yoga teacher for Ashtanga und Hatha-Yoga will offer Yoga session twice per day (morning & evening). It is important for us to choose the right place for that, because only locations with a good atmosphere and optimal conditions can have a great effect.

Usually – especially if you are walking a lot – we will do an Asana session in the morning, and a Pranayama session in the evening.

Between the yoga classes you will have all the time you need, to enjoy the nature and discover Sinai's amazing beauty and secrets. Our Bedouin guide will lead you to unforgettable places, where we prepare our camp sites for the night. We cook our meals on the open fire; prepare Bedouin tea and the original Bedouin bread - before we enjoy our night under millions of stars.

*Duration of the safari can be optional between 2 and 7 days
* Minimum 4 pax are needed to organize this trip.
* Vegetarian food upon request
Costs: 55 € per pax / per day