What do we offer…?
We offer fun dives and the full range PADI courses available, from discover scuba to see if you like diving, maybe enroll in your open water course or improve you skills with the advanced open water course, PADI specialties like E.F.R. first aid, the rescue course or become a dive master.
All of these courses are giving by only the best PADI Instructors.
---
PADI Discover Scuba Diving
This is world's most popular way to get introduced to scuba diving.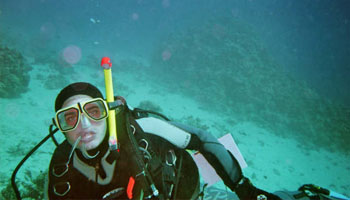 With Discover Scuba Diving (DSD) you can experience diving and after that decide whether you're interested in a course. The skills you learn in DSD are credited toward the PADI Open Water Diver certification.
Price € 60
---
PADI Open Water Course
In the PADI Open Water course your instructor takes you through the basic skills you need to dive safely. In 5 confined dives and 4 open water dives you learn 21 skills. Starting in a pool or pool-like conditions you progress to the regular dive sites. After being certified you are allowed to dive to 18 meters maximum depth with a buddy. And of course in the Red Sea with a dive guide.
Price € 250
---
PADI Advanced Open Water
If you'd like to brush up your skills, the PADI Advanced Open Water course provides this. This course has many different dives available, depending on your personal interest. There are two dives obligatory: the deep dive and the navigation dive. The three other dives are up to you. We highly recommend the Peak Performance Buoyancy dive as buoyancy in the end is the art of diving. But also very important, saves the reef as you are able to control yourself.
A few other dives for example for this course are: multi-level, underwater photography, naturalist, drift diving and night diving. In the manual you will find all the dives available.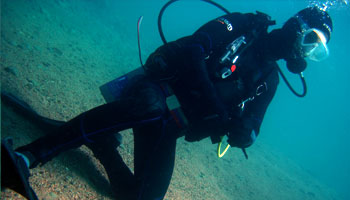 Being a certified PADI Advanced Open Water diver you are allowed to dive to 30 metres maximum.
Price € 190
---
E.F.R (first aid course)
Prior to the PADI Rescue course, you need to prepare yourself with the EFR course. You learn CPR, first aid, AED (automated external defibrillator) in order to be able to respond to medical emergencies. This course takes about 6-8 hours.

Price € 90
---
PADI Rescue course
Now you've reached the more challenging courses. Although the PADI Rescue course is a lot of fun, it is also very serious. You will expand your knowledge and experience in this course. It's a very rewarding course to your self-confidence. You learn to look beyond yourself, prepare yourself and your safety and that of others. In about three days you learn self-rescuing skills and you learn to rescue divers under water and on the surface.

Price € 220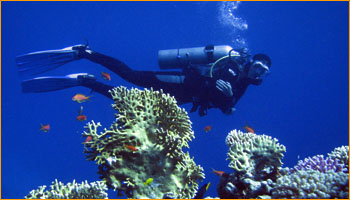 ---
PADI Divemaster
Your adventure into the professional levels of recreational diving begins with the PADI Divemaster program. Working closely with a PADI Instructor, in this program you expand your dive knowledge and hone your skills to the professional level. PADI Divemaster training develops your leadership abilities, qualifying you to supervise dive activities and assist instructors with student divers.
During the PADI Divemaster program, you learn dive leadership skills through both classroom and independent study. You complete water skills and stamina exercises, as well as training exercises that stretch your ability to organize and solve problems. You put this knowledge into action through an internship or series of practical training exercises.

Price upon request & according experience!
---
Note :
PADI Courses: (equipment & certification fee included)
*Please be aware that the PADI Manual must be purchased for all below courses - costing € 32 additional to the course prices.
* All prices are based on one person.
Please ask for our group- and individual discounts !!!!!
* The listed prices for PADI Courses (expect DM), intro dives
and single guided dives include full equipment
* For the dive packages please add 10,- € per day
in case you rent full equipment from us
* PADI certification fees are included the course prices!!!