3 days Jeep Safari
1st day:
Start from Dahab to Colored Canyon – Wadi Ghazala – Mushroom Rock – lunch with our Bedouin family in Oasis Ain Khudra – Closed Canyon – Overnight in Oasis Ain Khudra under millions of stars & palm trees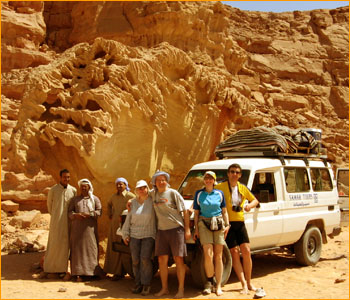 2nd day:
Starting from Ain Khudra – White Canyon – Jebal El Maktoub – Nawamis – lunch in Wadi El Roum – overnight under the stars in Wadi Arada.

3rd day:
Double Canyon – sand dune El Safra – Bir El Safra (natural well) – lunch in Jebal El Makharoom – huge sand dune El Hadudah – back to Dahab

---
3 days Camel Safari - 1
1st day:
Taking the Minibus from Dahab to Wadi Ghazala – from there we will get ourselves on the Camels – Ride to White Canyon – lunch with the Bedouins at Oasis Ain Khudra – Closed Canyon – Spending our night under the stars in the area of the Closed Canyon

2nd day:
Riding to Wadi El Roum – lunch in Wadi El Roum – discovering the huge area around – overnight in Wadi Am Matamir under millions of stars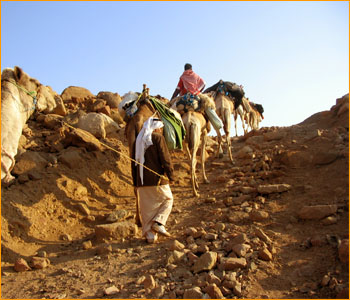 3rd day:
Nawamis – lunch break in Nawamis area – back to the road to meet our Minibus, which will take us to Dahab again
---
3 days Camel Safari - 2
Starting in Wadi Zaghra: Camel Ride to Wadi Hamam. Lunch in the Wadi. We follow the long Wadi till its end. Having dinner there and spending our first night under millions of stars. Next morning we head to the white dune El Bagar. Later Jebel El Makharoom for lunch. After we visit Bir Safra. Spending our 2nd night outside in Azarnough. Morning Camel ride to Wadi El Hudej. Enjoy the big sand dune El Hadudeh & having lunch. Afternoon Camel ride back to the street.
---
Camel Safari For 2 days
Starting from Ain Khudra: Camel Ride to the White Canyon & trekking through the Canyon. Lunch at Ain Khudra Oasis. Heading to the Closed Canyon. Spending the night under millions of stars in the area of the Closed Canyon. Morning Camel Ride to Wadi Disco. After, climbing Jebel El Melehes.
---